Excerpt taken from Chapter 2 of Becoming a Child of God by the Power of the Holy Spirit.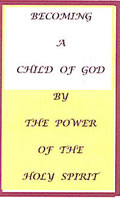 2
Holy Spirit
I had decided to offer my help at the new Church we were attending. It was two blocks from the townhouse we were renting. I knew I could teach in the Sunday school program. When I asked the young minister, who was in charge of the education program, if he needed a teacher for any grade, he asked me a question. "Is there a grade you would like to teach?"
I had no preferences and told him so. This minister was certain that I did have a preference. We went back and forth several times until I finally said; "High School."
He was thrilled and said that they were starting a special Bible study with the High School students. I told him my knowledge of the Bible was not that of a teacher of the Bible. He assured me it would be fine. Then the minister suggested that I join his adult Bible study that he taught on Monday evenings. I knew I had to go to that Bible study.
When I arrived with my old High School Bible, the minister handed me a new Bible. Everyone had that edition so it was helpful to have one. When this minister asked if anyone wanted to read the passage for that evening, there was a long moment of silence. For some reason, I agreed to read it. At that time in my life I was very shy and offering to do something in front of a group of strangers was very unusual for me. But I knew I must be the one to read that passage.
As I was reading the passage, a voice in my mind was explaining the meaning of these verses to me. While it was happening, I did not think it was strange to have a voice in my mind giving me understanding about what I was reading. (Later when I was home alone, I was very disturbed by that incident.)
This minister asked if anyone in the room knew what the Scripture that was read meant. Several people gave their thoughts and they were good on a personal level. When he asked if there was anyone else who might know what it meant according to Bible scholars, I said, "I know what it means."
He asked me to explain and I did. I repeated word by word the explanation that had been given to me in my mind. This minister began to sit up in his seat, his eyes opened wide and he barely managed to keep his mouth shut. When I finished, the minister said, "I brought my Bible reference book because this was one of the most difficult passages in the Bible and I wanted to read the meaning to everyone. But you have given us the exact meaning, word by word, that was written in my reference book. How did you know that explanation?
Being honest, I told the simple truth about the voice in my mind who had given me the meaning of the verses while I was reading them. He looked seriously at me for a moment and then he continued the meeting.
When it was time to leave, I was close to the door and began to walk out. The minister stopped me and asked me to stay for a few minutes. When everyone left, he said, "The Holy Spirit told me He was sending someone to help me with my work at this Church. I think you are the one He has sent."
I looked at him and mumbled something then swiftly left the room. I really thought that there must be something wrong with him. It took a day or two for me to sort out what had happened. What felt normal in that room seemed frightening to me, at home. After I calmed down, I realized that there was something there that I needed. I had to continue to attend the Bible Study.
At the next meeting, this minister told me about a group that met on Wednesday evenings. It was a special prayer group. He suggested that I should join that group, too. I agreed and now I was part of something else.
At that prayer group we sang songs of Praise and Worship to God. This was very new to me. Not the singing, of course, but the way that everyone was singing. It was personal to God. Then, we sat quietly in God's Presence. The peace at those meetings was very real to me.
I was also studying a different Book of the Bible from the one we were studying in the Bible group. The Book of Psalms began to speak to me like no other Book of the Bible ever did. (I had not realized that I was experiencing an overflowing of the Holy Spirit from the other members of the prayer group.)
While I was studying this book, I began to see that David had a very special relationship with God. I knew it was what I had wanted. I began to study those Scriptures to see what David had done to gain this relationship. The only thing I could see was that these Scriptures were written with great emotions. I thought that it was David's emotional outpouring which caught God's attention and gave him what he needed to be close to God.
After this analysis, (I was a research Biologist), I decided to do the same thing. I prayed a prayer to God filled with all the emotions that my being could possible give out. I prayed, "Loorrdd, I waant what David haad with Yoou!" (This is not misspelled but rather an attempt to show you the emotions I tried to reveal to God.)
An amazing thing happened. First a light appeared in the corner of the room. Then that light began to grow filling the room including the area all around me. In a second that light came together over me and went inside of me. The Joy I felt made me want to jump and hit the ceiling. I have never had such a Joy before or since. It was a rare and special gift. At the time, I did not understand that David had been anointed and had received the Holy Spirit. I did not understand that David's relationship to God came from this special gift of the Holy Spirit inside of him. And I did not know that that special gift was the Baptism of the Holy Spirit and that was what I had just received. Since that night my life had never been the same; Praise the Lord! That special day happened over thirty years ago.
There were many Scriptures that spoke about this special gift from God. I have put three of those Scriptures here.
"Do not leave Jerusalem , but wait for the gift my Father promised, which you have heard me speak about. For John baptized with water, but in a few days you will be baptized with the Holy Spirit."
Acts 1:4c,d,e;5.
"While Peter was still speaking these words, the Holy Spirit came on all who heard the message. The circumcised believers who had come with Peter were astonished that the gift of the Holy Spirit had been poured out even on the Gentiles. For they heard them speaking in tongues and praising God."
Acts 10:44-46.
In his letter to the Ephesians, Paul called the gift of the Holy Spirit a guarantee of our inheritance. I needed the gift of Our Lord Holy Spirit, who would lead me in the way that guaranteed I would receive my inheritance from Our Father.
"Having believed, you were marked in him with a seal, the promised Holy Spirit, who is a deposit guaranteeing our inheritance until the redemption of those who are God's possession—to the praise of his glory. (I added the emphasis.)
Ephesians 1:13c-14.
I will not tell you all that the Holy Spirit had done for me over the years. I will tell you some of the things that happened to me in the first month.
Every question I had had about God and His relationship to me and my family was answered.
The greatest gift was that Our Lord Jesus and Our Lord Holy Spirit brought me right to Our Heavenly Father.
I had dreams and visions that were amazing. One was important to the work I would be doing for these last thirty years. It took almost nineteen years before I really began to understand its importance. That vision and many others I had written about in the book, Visions, Images, and a Dream . I will not write about them here.
(I must write that I have never asked for a vision and I never will ask for one. What I had done was to ask for help and understanding and many times the answers had come to me in visions.)
One vision that led to the development of God's understand within me, began while I was praying quietly to Our Lord in my prayer chair. I was sitting in my chair when I taken away and was placed in the center of a large room of a library. There were books on shelves on all four walls from the floor to the ceiling. As I looked around, a voice spoke to me from above and said, "Give me all your knowledge."
I answered, "Lord, I give You all my knowledge."
All at once every shelf and the books on them crashed to the floor. I remember thinking was all of that inside of me. I was not left to my own thoughts for very long because a hand reached down from above and handed me a book. Then I heard as the book was being handed to me, "Now read this!"
It was a copy of the Bible.
Every message that I have received in a vision, had a serious effect on me. For the past thirty years I had been faithful to read the Bible and study it by the Power of the Holy Spirit.
Also in that first month, Our Lord led me to overcome my fear of Satan. (I had written about this in the book, Prepare for His Return! Praying the End-Time Warnings and Requirements.)
The Holy Spirit was now working in my life to change me to be the Child of God I was meant to be. I was told the work I would be doing. But for a shy woman, I was surprisingly calm about all that was shown to me.
I still lacked understanding and did not realize that it would take Our Lord thirty years to begin to accomplish what was said to me in that first month.
Reflection
I give You the Praise, Honor and Glory, Almighty God, for the great gift of Your precious Holy Spirit in my life. Without precious Holy Spirit, Lord God, I lacked Your daily personal touch in my life. I did not know how to be "alive" in the Body of Christ and that You wanted to give me this precious gift to help me in my everyday life. With the help of the Holy Spirit I have learned to be the wife, mother and homemaker You had called me to be. And I had been led to write the Words You had given to me.
Holy Spirit I want to thank You for Your guidance, direction, wisdom, knowledge, discernment and especially Your revelation knowledge everyday. Thank You for helping me to gain in my relationship with Our Father, with Jesus and with You.
Lord Jesus, I must truly thank You, again, for dying for me on the Cross. Your gifts of forgiveness of sins and salvation for me are priceless. The precious gift of Our Lord Holy Spirit in my life came because of Your death on the Cross, Your Resurrection from the grave, and Your Ascension into heaven unto Our Father's right hand. This precious gift of Our Lord Holy Spirit came to me because of Your obedience to Our Father's will in Your life. And Lord Jesus, You and Our Lord Holy Spirit always lead me to Our Father's will for me.
Lord Jesus, I ask that You will continue to lead me to Our Father's will for my life by the Power of Our Lord Holy Spirit.
Holy Spirit, thank You that every day You hover over me as You hovered over the creative waters in the Book of Genesis. I pray You would continue to recreate me according to Our Father's will for my life.
I pray that everyone would understand that we all are called to receive You, Holy Spirit. Because of Our Father's plan which came forth through His precious Son, Jesus, we have been given the gift that was reserved only for the Prophets and Kings of the Old Testament.
I was small and insignificant before I received You into my life, Lord Holy Spirit. I am still small and insignificant but You, Whom are inside of me, are not small and insignificant.
I pray that I will never forget that,
"…we have this treasure in jars of clay to show that this all-surpassing power is from God and not from us."
2 Corinthians 4:7.
I pray that everyone seeks this Power of Your God-guided life. The Power of the Holy Spirit that leads us to Our Lord Jesus and His work for us, which is always Our Father's will for our lives.
I continue to pray that Our Father's will come upon the earth for each of us in our everyday life.
Amen.
Becoming a Child of God by the Power of the Holy Spirit. © 2006 Paula Russo
Back to The Books Page | Home | The Author | Order Form
Paula Russo | P.O. Box 950987 | Lake Mary, FL 32795 |paula@acloserwalkwithgod.com